Recruitment Fraud Notice : Don't fall victim to fake CareFirst jobs or fraudsters posing as Human Resources staff. Learn more.
Return with Care
The following resources are designed to support your clients' return to work and guide the decisions necessary for resuming their business operations.
Operational Toolkit for Businesses Considering Reopening or Expanding Operations in COVID-19
Through our partnership with the Johns Hopkins Center for Health Security, we are pleased to offer access to their Operational Toolkit to help business owners determine their risk of COVID-19 transmission and how to reduce it. The toolkit can help your business calculate and understand the level of risk you have, the modifications to operations you can implement, and the mitigation measures that would be useful to include in your procedures.
We've also created a quick guide version of the comprehensive toolkit.
This recorded webinar features experts from the Johns Hopkins Center for Health Security as they provide:
An overview of the pandemic to date, including a review of key terms (e.g. confirmed/probable case, cluster, community transmission, contact tracing, public health and social measures, isolation, quarantine etc.)
Insights on decision making and risk management
A review of the online Business Operational Toolkit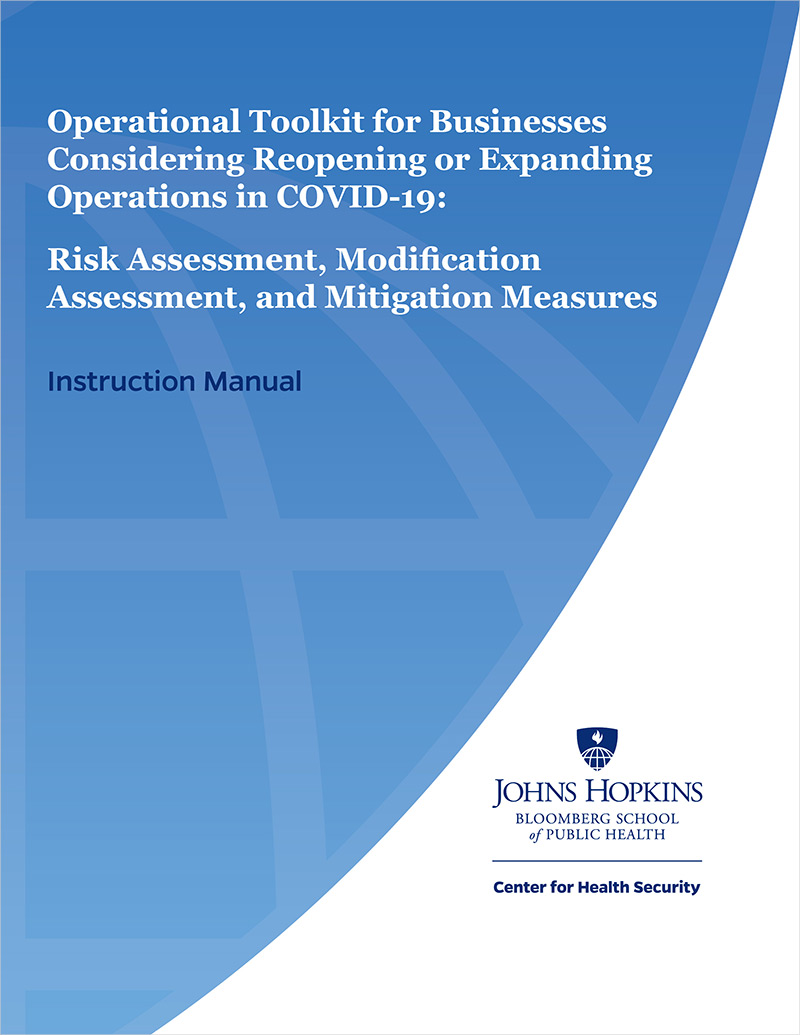 ---
Member Support Resources
As employers begin to plan for reopening or retooling business operations during COVID-19, we recognize this can cause uncertainty for employees. To help address some common concerns, we have assembled a package of member communication resources you can share with your employees. Topics include stress reduction, mental health resources, healthy habits, CareFirst Video Visit, and other CareFirst support services.
COVID Employer Toolkit

Mental Health
Returning to work during a public health crisis may create unexpected and additional stress that can be more challenging to manage for those suffering with mental illness. Increase awareness and access to care with these helpful resources addressing stress, mental health, and addiction.

Digital Health Engagement Tools & Resources
Encourage your employees to take charge of their healthcare experience with virtual access to providers, urgent care locations, and their personalized benefit information through My Account.

Exercise
Though many traditional spaces for exercise have experienced disruption, share suggestions with your employees for enjoyable activities that also burn calories, ways to incorporate fitness at home, and weight loss assistance with our wellness partner, Sharecare, Inc.

Sleep
A good night's sleep is critical to overall health and well-being. Post this flier for your employees as a helpful reminder of habits that promote a better night's rest as they transition to the "new normal".

Financial Health/Saving
Focus on your wellness goals while taking advantage of discounts on fitness products and programs offered through Blue365.

Customizable Communications
Add your own message to these customizable communications promoting safety and mental well-being.
This toolkit has been provided for the purpose of offering general information for the consideration of Employers as they implement "return to work" strategies for their employees. This toolkit was prepared by Johns Hopkins Center for Health Security, an independent entity which is not affiliated with CareFirst. CareFirst did not create the content for the toolkit and in providing access to the toolkit, CareFirst does not intend to offer medical or legal advice. The information contained therein should not be relied upon as either medical or legal advice.
Support for Medium-Large Employers
Enhanced Support for Employers with 51 or More Full-Time Employees.
Your clients can further address the unique needs of their employees as they return to work with our collection of enhanced resources for onsite screening and testing services, emotional and mental health support, and protective equipment. There is a cost associated with these enhanced offerings, and employers with available wellness credits may allocate them toward any cost.
Return to work resource
Description

On- and off-site diagnostic testing

High-quality, FDA-authorized COVID-19 diagnostic testing.

CVS Health's high-quality, FDA-authorized COVID-19 diagnostic testing uses Point-of-Care machines in addition to drive-through Swab and Send testing at CVS Pharmacy® locations. Additional analytics and personal protective equipment are also available. CareFirst will coordinate logistics, implementation, reporting and invoicing on your behalf.

Employee care packages

Protect your employees with a helpful care package.

Packages include cloth masks, mini hand sanitizer bottles and touchless sanitary keys for purchase. We facilitate fulfillment and delivery for these unbranded items.

COVID Return to Work Consultation

Work with experts to create a personalized plan for return to work.

Receive a personal consultation and guidance from expert epidemiologists in national and international public health policy, disease outbreak control, and risk management who can help assess COVID-19 risk and plan for mitigation measures to reduce risk to employees and customers