Medicare is a government health care program. The two basic parts of Medicare are often referred to as Original Medicare and are comprised of Part A and Part B. To start the conversation, here's a 5-minute educational video about Medicare.
Who Is Eligible for Medicare?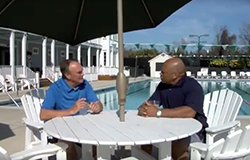 Medicare is for those:
65 years and older
Under age 65 with certain disabilities
Diagnosed with End-Stage Renal Disease (ESRD) regardless of age
When Do I Get Medicare?
Most people automatically get Original Medicare (Parts A and B) when they turn 65 because they are already receiving Social Security or Railroad Retirement benefits. Your red, white and blue Medicare card will come in the mail three months before your 65th birthday (or your 25th month of disability) if you're automatically enrolled.
If you expect to continue coverage from either your or a spouse's employer coverage past the age of 65, you should contact a Benefits Administrator from the employer to discuss your options. It may be beneficial to delay your Part B coverage as you'll save money by not having to pay the monthly premium.
You can delay Part B by following the instructions that come with your red, white and blue Medicare card when you receive it in the mail. Or you can contact Social Security.
Where Can I Use Medicare?
You can use Original Medicare for any doctor or hospital that accepts Medicare.
Medicare determines how much it pays doctors for performing a particular service. This is called Medicare assignment.
A doctor can then agree to accept this amount or to refuse Medicare assignment.
A doctor who refuses Medicare assignment (but accepts Medicare), may charge up to 15% more than Medicare assignment.

Medicare does not cover this additional part of your bill.
Most doctors do accept Medicare assignment, giving most people the freedom to choose their own doctors. However, if you purchase a Medicare Advantage plan, your provider network may be limited (you may have fewer doctors to choose from).