CareFirst Taps New Vice President, Public Policy
John Michael O'Brien brings experience in federal health programs, industry advocacy
Baltimore, MD  (May 13, 2013) -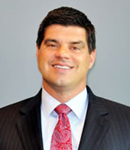 CareFirst BlueCross BlueShield (CareFirst) recently named John Michael O'Brien, a former director with the federal Centers for Medicare and Medicaid Services at the U.S. Department of Health and Human Services, its new vice president of public policy. O'Brien replaces David Grosso, who left CareFirst in November 2012 after being elected to the Council of the District of Columbia as an independent.
At CareFirst, O'Brien will help the mid-Atlantic's largest health insurer adapt to industry changes brought on largely by the Affordable Care Act. O'Brien, a 2006 graduate of the Johns Hopkins University Bloomberg School of Public Health in Baltimore, will represent CareFirst on federal and state government and regulatory matters related to the implementation of federal health reform and its impact on the company's 3.4 million members.
O'Brien also will use his experience as an adviser at the Center for Medicare and Medicaid Innovation (CMMI) to help CareFirst complete the launch of a federally funded pilot program to expand its Patient-Centered Medical Home model to 25,000 Medicare beneficiaries in Maryland. CareFirst received the three-year, $24 million health care innovation award from CMMI in June 2012.
Before joining CareFirst, O'Brien was acting director of the division of strategic partnerships within CMS's Office of Communications, managing a team of public affairs and health insurance specialists to educate Americans about federal health reform, Medicare and other public health programs. Prior to that, O'Brien was senior adviser for CMMI and held leadership roles in the federal health department's Partnership for Patients and Million Hearts initiatives.
O'Brien holds a doctor of pharmacy (PharmD) degree from Nova Southeastern University in Ft. Lauderdale, Fla., and studied pharmacy and public policy at the University of Florida in Gainesville. He has 10 years of experience as an advocate for the pharmacy and pharmaceutical industries, including work as the senior director of state policy for the Pharmaceutical Research and Manufacturers of America (PhRMA) and as a professor at the Notre Dame of Maryland University School of Pharmacy. O'Brien also serves as an affiliate professor at the University of Maryland College of Pharmacy.
"CareFirst is fortunate to have someone of John's experience and background in the industry and with federal health care programs," said Maria Harris Tildon, CareFirst's Senior Vice President of Public Policy and Community Affairs. "We will rely on John's advocacy expertise and his understanding and knowledge of federal and state health care regulations as we embrace changes related to the Affordable Care Act."
---
About CareFirst
In its 76th year of service, CareFirst, an independent licensee of the Blue Cross and Blue Shield Association, is a not-for-profit health care company which, through its affiliates and subsidiaries, offers a comprehensive portfolio of health insurance products and administrative services to 3.4 million individuals and groups in Maryland, the District of Columbia and Northern Virginia. In 2012, CareFirst contributed $57 million to community programs designed to increase the accessibility, affordability, safety and quality of health care throughout its market areas. To learn more about CareFirst BlueCross BlueShield, visit our website at www.carefirst.com or follow us on Twitter: http://twitter.com/CareFirst_News.
Subscribe to CareFirst News
Receive the latest CareFirst news in your email.