CareFirst Names Jonathan Blum New Leader of Medical Affairs Division
Former Principal Deputy Administrator of CMS brings national expertise in health care payment and delivery reforms
Baltimore, MD (September 10, 2014) -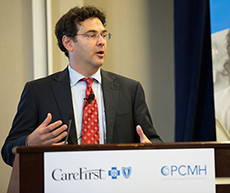 CareFirst BlueCross BlueShield (CareFirst) has named Jonathan Blum, former Principal Deputy Administrator and Director of the federal Centers for Medicare and Medicaid Services (CMS) at the U.S. Department of Health and Human Services, as its new Executive Vice President of Medical Affairs.
Blum, who joined the company Sept. 8, brings nearly two decades of government health care policy experience to CareFirst, the mid-Atlantic's largest health insurer. Blum most recently served as second in command under Marilyn Tavenner at CMS and will, among other responsibilities, oversee the CareFirst Patient-Centered Medical Home program, the company's signature primary-care coordination initiative that recently reported its third-year of positive results. Blum also will be responsible for the company's extensive provider networks, care management programs, pharmacy operations and medical policies.
During his tenure at CMS from 2009 to 2014, Blum was responsible for the regulation and payment of Medicare's fee-for-service providers, its prescription drug program and the federal health care program's privately administered plans.
His accomplishments in the reform of Medicare payment and delivery included the launch of the Medicare Shared Savings Program and Medicare Advantage Quality Bonus Program, and development of new bundled payment initiatives and strategies to reduce waste, fraud and abuse. Blum also served as the central figure in CMS's approval of the unique Medicare waiver program that regulates hospital reimbursement in Maryland. In doing so, he led the CMS team that worked with industry regulators, hospitals and insurers in Maryland to launch the new all-payer program Jan. 1, 2014.
Before joining CMS, Blum was Vice President for Medicaid and Long-Term Care for Avalere Health in Washington, D.C. Blum also served on the professional staff of the U.S. Finance Committee and as a budget examiner at the Office of Management and Budget.
"Jon brings extremely impressive and extensive background in health care strategy, policy and operations, at the highest levels of government," said CareFirst CEO Chet Burrell. "His experience with the development and completion of many significant payment and delivery system reforms on a national level will be of great value in our efforts to provide affordable and accessible health care services to our members."
Blum holds a master's degree from Harvard University's Kennedy School of Government and a Bachelor of Arts from the University of Pennsylvania.
About CareFirst BlueCross BlueShield
In its 77th year of service, CareFirst, an independent licensee of the Blue Cross and Blue Shield Association, is a not-for-profit health care company which, through its affiliates and subsidiaries, offers a comprehensive portfolio of health insurance products and administrative services to 3.4 million individuals and groups in Maryland, the District of Columbia and Northern Virginia. In 2013, CareFirst contributed nearly $57 million to community programs designed to increase the accessibility, affordability, safety and quality of health care throughout its market areas. To learn more about CareFirst BlueCross BlueShield, visit our website at www.carefirst.com or follow us on Twitter and Instagram.
Subscribe to CareFirst News
Receive the latest CareFirst news in your email.