Patient-Centered Medical Home Program Shows Promising Quality Trends and Continued Savings on Expected Costs
Costs Lower than Expected for 3rd Consecutive Year; Key Quality Indicators Show Positive Care Trends for 1.1 Million Members Covered by PCMH Program
Baltimore, MD (July 10, 2014) - After three years, CareFirst's large-scale, region-wide Patient-Centered Medical Home Program (PCMH) is continuing to lower the rising costs of care for CareFirst members covered by the program. In addition, emerging data suggests that CareFirst members under the care of participating PCMH physicians fare well when measured on key quality indicators. These trends are encouraging as CareFirst's PCMH Program now matures and is well into its fourth year of operation.
CareFirst's PCMH program began in 2011 and completed its third year of operation in 2013. Over 80 percent of all primary care providers in the CareFirst service area – including parts of Northern Virginia, the District of Columbia and Maryland – participate in the program. Since the program began, CareFirst has seen the overall rate of increase in medical care spending for its members slow from an average of 7.5 percent per year, in the five years preceding the program's launch, to 3.5 percent in 2013.
Beyond the encouraging overall medical care spending trends, CareFirst continues to see strong performance by its PCMH program when measured against the expected cost of care for CareFirst members covered by the program. Health care costs for the 1.1 million CareFirst members covered by PCMH were $130 million less than projected in 2013; 3.2 percent less than the expected cost of care for this population of patients. The savings has risen from 1.5 percent in 2011 and 2.7 percent in 2012. In all, the PCMH Program has accounted for $267 million in avoided costs when measured against the projected cost of care from 2011 to 2013.
Key quality indicators suggest positive impacts on CareFirst members who are under the care of PCMH primary care providers. The company tracks key quality indicators for those members who see participating PCMH physicians and members who see physicians who are not in the PCMH program. When compared to members under the care of non-PCMH physicians, CareFirst members seeing PCMH providers had:
6.4% fewer hospital admissions*
11.1% fewer days in the hospital*
8.1% fewer hospital readmissions for all causes*
11.3% fewer outpatient health facility visits*
*Per 1,000 CareFirst Members
"Increasingly, the data we are seeing on quality and cost for the physicians participating in our PCMH program and our members under their care give us confidence that our program is taking hold and headed in the right direction," said CareFirst President and CEO Chet Burrell. "With this said, given national trends downward over the last few years, it would be unfair to attribute these shifts solely to our program, but we believe the PCMH program has had a significant contributory effect."
Currently, more than 4,000 primary care providers (primary care physicians and nurse practitioners) participate in CareFirst's PCMH program. Primary care providers are organized into Panels – groups of 5 to 15 physicians – for purposes of coordinating the care of members who have chosen them. As care giving teams, Panels can earn Outcome Incentive Awards (OIAs) based on both the level of quality and degree of savings they actually achieve against projections.
Approximately 69 percent of participating Panels in 2013 earned OIAs, which are paid in the form of increased reimbursements during 2014 and 2015 for their 2013 performance in the program. This is up from 66 percent in 2012 and 60 percent in 2011. On average, Panels that earned an OIA in 2013 will receive an almost 36 percentage point increase on primary care fees paid by CareFirst. This increase is in addition to the 12 percentage point participation fee paid to PCMH Providers. For a PCMH PCP earning an average award in 2013, this translates into $25,000 to $30,000 in increased revenue.
"What is impressive to us is that the awards have steadily increased despite a slowing in the rise of health care costs" said Burrell. "This suggests that there is ample room for improving outcomes for our members on a sustained basis, which we are greatly encouraged by."
More Information
About CareFirst
In its 74th year of service, CareFirst, an independent licensee of the Blue Cross and Blue Shield Association, is a not-for-profit health care company which, through its affiliates and subsidiaries, offers a comprehensive portfolio of health insurance products and administrative services to nearly 3.4 million individuals and groups in Maryland, the District of Columbia and Northern Virginia. In 2010, CareFirst contributed $56 million to community programs designed to increase the accessibility, affordability, safety and quality of health care throughout its market areas. To learn more about CareFirst BlueCross BlueShield, visit our Web site at www.carefirst.com or follow us on Twitter: http://twitter.com/CareFirst_News.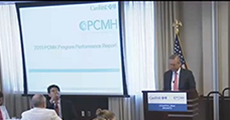 Subscribe to CareFirst News
Receive the latest CareFirst news in your email.

Viewing and printing this document requires Adobe Acrobat Reader, which can be downloaded free from the Adobe site.