CareFirst Names Brian Pieninck New Executive Vice President for Large Group Business Unit
Baltimore, MD (June 15, 2015) -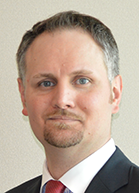 CareFirst BlueCross BlueShield (CareFirst) has named Brian Pieninck, a former Aetna executive, as its new Executive Vice President overseeing the Large Group Strategic Business Unit. Pieninck, who joined CareFirst last month, will be responsible for the operation, service and sales of CareFirst's large group accounts.
During the past 18 years, Pieninck held a variety of leadership positions with Aetna, most recently serving as President of America's for Aetna International, a wholly owned subsidiary of Aetna. In that role, he was responsible for the company's business interests and strategic expansion in North, Central and South America, as well as the Caribbean.
Prior to serving as President of Aetna International's Americas organization, Pieninck was President of Southeast National Accounts, which included accountability for over 2.5 million plan members, and management of the national sales and service delivery teams responsible for customers, consultants, and distribution partner relationships.
"Brian's extensive background in health care solutions, business development and general management make him an excellent choice to lead CareFirst's Large Group Strategic Business Unit," said CareFirst President and CEO Chet Burrell. "I am confident he will expand upon our success and I look forward to his contribution to our leadership team."
During his tenure with Aetna, Pieninck also held several positions of increasing responsibility within National Accounts after beginning his career in IT service operations working in database development, electronic enrollment solutions, and Y2K readiness for electronic eligibility interfaces.
About CareFirst BlueCross BlueShield
In its 78th year of service, CareFirst, an independent licensee of the Blue Cross and Blue Shield Association, is a not-for-profit health care company which, through its affiliates and subsidiaries, offers a comprehensive portfolio of health insurance products and administrative services to 3.4 million individuals and groups in Maryland, the District of Columbia and Northern Virginia. In 2014, CareFirst contributed nearly $55 million to more than 300 community programs designed to increase the accessibility, affordability, safety and quality of health care throughout its market areas. To learn more about CareFirst BlueCross BlueShield, visit our website at www.carefirst.com or follow us on Twitter.
Subscribe to CareFirst News
Receive the latest CareFirst news in your email.