Wendell L. Johns Named Board Chair of CareFirst's National Capital Area Subsidiary
Baltimore, MD (July 14, 2015) -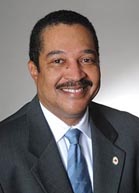 Wendell L. Johns has been named the new Chair of the Board of Trustees of Group Hospitalization and Medical Services Inc. (GHMSI), a subsidiary of CareFirst Inc. (CareFirst) Johns first joined the GHMSI Board in December 2011 and was elected Chair in May 2015. He has served on the board of CareFirst Inc. since September 2014.
In addition to his work with CareFirst, Johns has served on a number of boards and committees, including Board Chair of the Great Lakes Capital Fund, Vice Chair and Treasurer of the Girls, Inc. of the Washington, D.C. Metropolitan Area, and Treasurer and Financial Committee Chair of the Graduate Theological Union. Johns also served as Executive Vice President and Chief Financial Officer of The NHP Foundation, a nonprofit owner and operator of affordable rental housing in 11 states, from 2006 to 2010.
"Wendell's appointment to Chair of the GHMSI Board of Trustees will showcase his continued commitment to helping CareFirst fulfill its mission of providing affordable, accessible health care services to individuals and families throughout our region," said Linda W. Cropp, Chair of the CareFirst, Inc. Board of Directors. "Wendell has brought knowledge, experience and skill to our Board since first joining us in 2011, and we know he will continue to do so in this new leadership capacity."
In 1985, Group Hospitalization, Inc. and Medical Services of the District of Columbia merged to form what is today known as Group Hospitalization and Medical Services Inc. (GHMSI). The GHMSI Board is tasked with ensuring the company remains faithful its stated mission and core values, while adapting to the constantly evolving needs of the health care industry.
The GHMSI Board of Trustees includes: Shirley Marcus Allen; Clifford E. Barnes, Esq.; Faye Ford Fields; Artis G. Hampshire Cowan; Polly Povejsil Heath; Robert C. Kovarik, Jr.; Jack A. Meyer, Ph.D.; Shirley R. Patterson; Elena V. Rios, M.D., M.S.P.H.; Patricia A. Rodriguez, M.D.; and Robert L. Sloan.
About CareFirst BlueCross BlueShield
In its 78th year of service, CareFirst, an independent licensee of the Blue Cross and Blue Shield Association, is a not-for-profit health care company which, through its affiliates and subsidiaries, offers a comprehensive portfolio of health insurance products and administrative services to 3.4 million individuals and groups in Maryland, the District of Columbia and Northern Virginia. In 2014, CareFirst contributed nearly $55 million to more than 300 community programs designed to increase the accessibility, affordability, safety and quality of health care throughout its market areas. To learn more about CareFirst BlueCross BlueShield, visit our website at www.carefirst.com or follow us on Twitter.
Subscribe to CareFirst News
Receive the latest CareFirst news in your email.