SilverSneakers® Fitness Program
Get fit. Have fun. Make friends!
SilverSneakers1 works to improve your overall well-being, fitness and strength—and it's included with your CareFirst MedPlus membership (for Maryland and Washington, D.C. residents). CareFirst MedPlus and SilverSneakers offer you:
Membership at more than 13,000 gyms and fitness locations nationwide
Access to fitness equipment
Specially-designed, signature exercise classes for all fitness levels2
Pools, tennis courts and walking tracks3
Enrolling couldn't be easier. You'll be automatically enrolled in SilverSneakers once you become a CareFirst MedPlus member. Your SilverSneakers welcome kit and member ID will be mailed to you.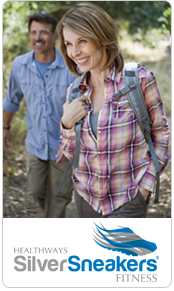 1 SilverSneakers is a product owned by Tivity Health, Inc., an independent company that is solely responsible for their products and provides services to CareFirst MedPlus members. Tivity Health does not sell BlueCross or BlueShield products. Tivity Health and SilverSneakers are registered trademarks or trademarks of Tivity Health, Inc. and/or its subsidiaries and/or affiliates in the USA and/or other countries. SilverSneakers is not a benefit guaranteed through your Medigap insurance Policy. It is, however, a health program option made available outside of the Policy to CareFirst MedPlus members.
---
In some states, Medicare Supplement plans are available for under age 65 disabled individuals that are eligible for Medicare.
Neither CareFirst BlueCross BlueShield nor its Medicare supplement insurance policies are connected or endorsed by the U.S. government or the federal Medicare program.
CareFirst MedPlus is the business name of First Care, Inc.
This is a solicitation of insurance.