Vaccines Are the Way to End This Pandemic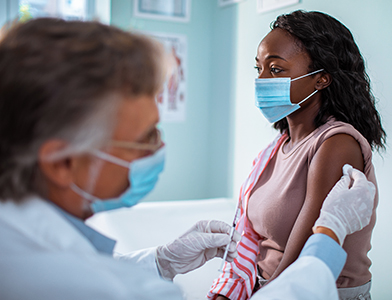 It has been a long year of devastation, and even though sadness and fear remain, there is hope. Safe and effective vaccines are here. And the vaccine supplies and availability will only increase.
CareFirst BlueCross BlueShield's Vice President and Chief Medical Officer, Dr. Daniel Winn, recently shared information on vaccines in a Baltimore Sun article. The most important statement shared: "vaccines are the way to end this pandemic."
In the article, Dr. Winn shares four topics that we must continue to discuss:
Education about the COVID-19 vaccine
Myths tied to vaccines in general
Access to appointments and the vaccine itself
Best practices after receiving your shot(s)
To get 75-85% of the population vaccinated is a massive undertaking. Frustrations felt this last year will not disappear right away. But the sooner we get vaccinated when we are eligible and able, the sooner we can all get better together.
Read the full article in the Baltimore Sun.
For more information on COVID-19 vaccines, please visit the CareFirst Coronavirus Resource Center.