CEOs Outline Goals for Ethical and Effective Data Sharing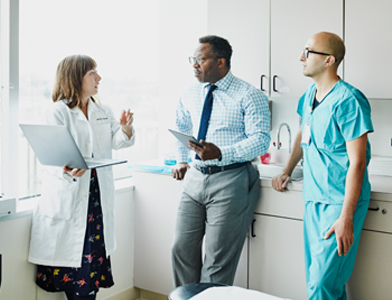 Data sharing in the healthcare industry has recently become a hot topic in legislation. As we enter a digital transformation of how people receive care, private and public sector leaders continue to encounter new opportunities to address how data sharing is beneficial to many.
Health Evolution recently interviewed CEOs and other healthcare business leaders to discuss the future of sharing health information. Four goals were established to ensure both sharing and usage are ethical. The initial forum is part of a larger discussion with Health Evolution called the Roundtable on Next Generation IT in Health Care, featuring over 200 CEOs.
Brian Pieninck, President and CEO of CareFirst BlueCross BlueShield, was one of the featured contributors in the forum alongside Amy Abernethy, MD, Principal Deputy Commissioner and Acting CIO of the U.S. Food and Drug Administration, Steve Klasko, MD, President & CEO of Thomas Jefferson University and Jefferson Health and Aneesh Chopra, President of CareJourney.
"The more we can band together around what should be driving the use of data, availability of data, access to data, the better," Pieninck said. "It is going to be incredibly important for us to maintain a broader base of trust with the public that allows for capabilities to be utilized in a meaningful way."
Pieninck emphasized that addressing data sharing in the healthcare industry will impact overall health outcomes and experiences for the better.
Read the full article here.
To access additional information on COVID-19, please visit our Coronavirus Resource Page.