What Is a Primary Care Provider?
A primary care provider (PCP) is sometimes called a primary care physician. A PCP can be:
a doctor,
nurse practitioner,
physician assistant, or even
a care team (through a virtual primary care practice like CloseKnit).
How Do I Choose a PCP if I Don't Have One?
There are two reliable ways to start your search:
Talk to your friends and family

—personal recommendations can give you a good sense of whether you would be comfortable with a particular PCP.

Use a health insurance company's provider directory

—this is typically an online tool that helps you find a PCP in your area and within your health plan's network, such as CareFirst's  Find a Doctor  tool.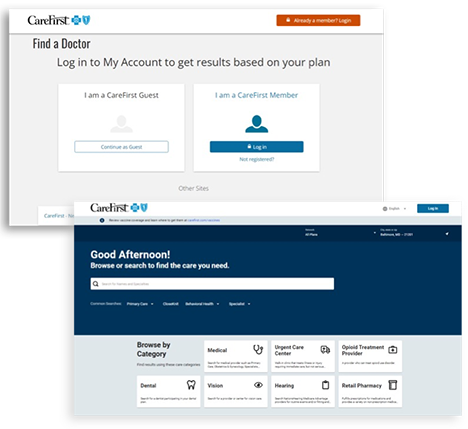 You will see a list of PCPs who are in network for CareFirst coverage. You'll also see:
PCP's specialty (internal medicine, family practice, nurse practitioner, pediatrics)
whether they're accepting new patients,
what languages they speak,
where they went to medical school, and
their practice address and phone number.
Note: If you logged in as a CareFirst member, you would only get results for doctors that accept your particular CareFirst plan.
Do I Have To Choose a PCP?
If you have an HMO health plan, you will usually be required to choose a PCP. You may also need a referral (written notice) from your PCP to see any medical specialists other than an OB/GYN.
Otherwise, when it comes to receiving care, you have a choice:
You can receive care from any doctor you would like to see. (However, using in-network doctors will often reduce the amount you pay for care.)
Selecting a PCP is not mandatory—

but it is highly recommended

.
Why Is Choosing a PCP Important?
Establishing a relationship with a PCP is the best way to receive consistent, quality care and ensure your healthcare experience is the best it can be. They play a huge role in keeping you healthy now and in the long run.
Your PCP's office is your medical "home base." They lead a team of people who care about your unique needs and health goals. Your PCP:
Has online access to your medical records from all your doctors, including labs results and prescriptions
Ensures you get the care you need, when you need it
Reviews all your medications for any possible drug interactions or duplications
Develops a personalized plan of care for any health problems
Your PCP also helps you coordinate additional care you may need among other providers, such as a visit with a specialist, X-rays or lab work.