Transforming Healthcare
Good healthcare is more than treating people when they are sick. It empowers people to stay well. That is why we strive to meet people where they are—in their health journeys and in their communities. We deliver the resources and care they need when they need it.
We address health challenges people face through advocacy and innovation. We build partnerships and invest in solutions that improve access to care; support good physical, mental and financial health; reduce overall healthcare costs and advance health equity.
As a not-for-profit healthcare company serving more than 3.6M members, we are uniquely positioned to bring long-awaited change to the healthcare industry and to make a meaningful difference in the communities we serve. And so, we will.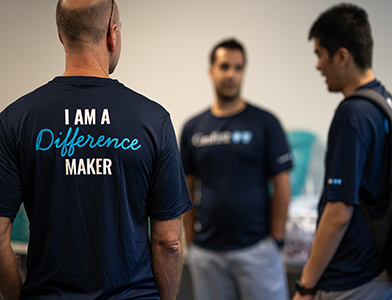 CareFirst's 5th Annual Week of Equity & Action Cultivates Thriving Communities
As the mid-Atlantic region's largest not-for-profit health plan and a leading employer in the Baltimore-Washington metropolitan area, CareFirst's Week of Equity & Action is core to the organization's mission to provide affordable, accessible and equitable healthcare for all. By dedicating time and resources to listening to one another and learning about different lived experiences, CareFirst and its employees can better act to meet the needs of the people and communities we serve.