Why CareFirst BlueCross BlueShield
Our Promise
Our pledge to keep you well goes beyond clinical care. We meet you where you are with tools to help you show up at your best, to do your best. Because when it comes to better health, you shouldn't have to wait.
As the largest, not-for-profit health plan in the Mid-Atlantic, we work to ensure that healthcare is easy to afford, easy to use and available to everyone. We solve problems with equal parts urgency and empathy. We simplify the complex. We step forward with new ideas. Because we are building the healthcare experience we want for our families and for our future.
CareFirst. It's not just our name; it's our promise.
---
Our Coverage
Our health plans give you the freedom to get the care you need, when and where you need it and include:
Access to 1.7 million U.S. providers.
Plans designed to meet your budget. No charge for many benefits.
---
Our Tailored Solutions
Rewards for living healthy and more options than ever to help you manage everything from your finances to your health. Whether you want to take more steps, eat healthier, get mental or emotional support or talk to a provider on the go, we've got you covered with innovative products to keep you well and add value to your health plan at no additional cost.
WellBeing℠
CareFirst WellBeing puts the power of health in your hands, offering exciting, personalized wellness programs designed to help you— and your family— address every aspect of your well-being.
Noom
Noom encourages people to make behavioral changes to live healthier. While Noom can support weight loss, it particularly benefits people living with or at risk for diabetes and hypertension.
CloseKnit
CloseKnit is virtual-first, high-quality primary care designed to meet your needs. The app provides 24/7/365 access to physical and behavioral healthcare and support. And messaging your care team is always free.
---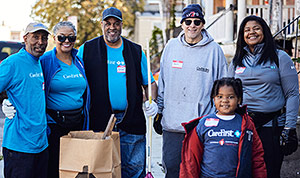 Our Community Impact
We invest in organizations that connect people to the health resources they need. We partner with community leaders, municipalities and health systems to identify and address factors impacting health. We also influence our region's policy dialogue to best support the health of all people in our communities.
Learn more about how we make a meaningful difference in the communities.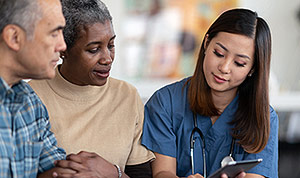 Our Efforts to Transform Healthcare
We are addressing health challenges people face through advocacy and innovation and building partnerships that improve access to care; support good physical, mental and financial health; reduce overall healthcare costs and advance health equity.
Learn more about how we are transforming healthcare.
---
Years
86 years of doing business and investing in care solutions
Members
The largest not-for-profit insurer in the Mid-Atlantic region, serving 3.5 million members
Employees
9500 employees and contractors across Maryland, Washington, D.C., Northern Virginia and beyond
Minority Workforce
Over 50 percent of our workforce represents an ethnic minority