Advancing Health Equity: Making Meaningful Change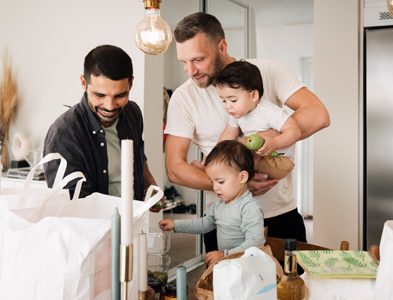 When we talk about equity, what we're really talking about is someone's rights. And health equity is just that—a human right to be as healthy as possible and get quality healthcare and fair treatment. But the current state of healthcare is not an equal playing field. To drive change within some of the root causes of inequity in healthcare, CareFirst has prioritized our investments and strategic areas of focus.
CareFirst BlueCross BlueShield Community Health Plan Maryland (CareFirst CHPMD) thought leader and CEO, Mike Rapach, recently shared some insights on how we, CareFirst, work to fulfill the responsibility to make accessible care a reality for all.
How would you define health equity, and why is it a strategic priority for a managed care organization?
Rapach: Health equity means that regardless of language, location, income and ethnicity, people have access to quality health benefits. In healthcare we often say, "your ZIP code is a better predictor of your health than your genetic code," and it's sad but true. Minority ZIP codes have higher rates of poverty, unemployment, poor housing, toxic environmental exposure and less access to quality medical care. These factors all contribute to poor overall health. Unfortunately, these inequalities continue to shape our health and our economy.
As a managed care organization, we have insight and influence that can be used to impact many of these factors. We owe our community that—to do some good with the strategic position we have as a large care provider in Maryland.
How is CareFirst meeting members where they are to drive equitable access and care?
Rapach: First and foremost, CareFirst CHPMD is creating access by contracting with the health systems and providers that are in Maryland, in our communities. We're contracted with almost every health system in the state. These partnerships pave the way for that initial access for Maryland Medicaid members.
We also have community health workers who are reaching out into the communities. We have special relationships with the Federally Qualified Health Centers, which serve as the primary site of care for about 20% of our membership overall and tend to be the core providers for Medicaid members. In Baltimore City, those Federally Qualified Health Centers are a lifeline. We're working very closely with them to try to find ways to create impactful programs together.
We focus on dental and vision care, which for low income individuals tends to be an area of great challenge. There are not a lot of dentists and optometrists who are willing to accept Medicaid members. And so, by leveraging our network and influence locally, we can help bring those benefits to people who wouldn't be able to access them as easily as others.
For our Dual Eligible Special Needs Plan members, we coordinate free transportation to and from doctor's appointments and to get medicine.
How do we measure our health equity efforts as an organization? And how do we verify those are the right and best things that we should be doing for our members?
Rapach: One way we measure success—as an organization and for our members' overall health—is encouraging people to see their doctors on a regular basis. Creating that habit is so critical for preventing disease and keeping healthy. Especially if they're living with complex health needs or a chronic condition.
Our Medicaid program has several quality metrics that the state of Maryland measures us on each year. These measures ensure we're not simply an insurance provider, but that we're actively helping our members stay healthy and stay active in their communities. And the state holds us accountable to preventing and slowing diseases—especially those that disproportionately effect certain ZIP codes in Maryland like diabetes, COPD and obesity. The more people that participate in their own health, the bigger their chance at a healthier and more satisfying life.
We also take member satisfaction measures very seriously, especially how members feel about the experience they've had with their provider. Everyone deserves to be treated with respect and dignity and get the services they need in a timely fashion.
What opportunities lie ahead for CareFirst to further advance health equity in our communities?
Rapach: To put things in perspective, 25% of the population of Maryland is in the Medicaid program currently. Which is probably a lot more than any of us would realize given the average net income in Maryland. Maryland has what I consider four target zones. We have Baltimore City and Baltimore County, which are complex urban environments where you have some transportation and food distribution challenges. Then you have the DC suburbs with a whole host of individuals who are low income and experiencing challenges in what are very affluent areas. Third, the Eastern Shore has a large Medicaid population with rural challenges of transportation and information access. And lastly, we've recently expanded to serve the three most Western counties in Maryland and added support services for Medicaid beneficiaries there.
Each area of the Maryland population has unique needs. And therefore, different areas of health equity focus for us. So as the largest insurance provider in the state, we're trying to find ways to understand the specific populations, people's health needs and how we can best help them access care and support their health. And that includes seeking to understand and solve for non-health based challenges like housing, access to food, internet and transportation.
And we can't do that alone. How can other organizations/state and local leaders do their part so that together we can make progress toward achieving health equity?
Rapach: I think we'd be looking for state, local and even federal leaders to find ways to be flexible. There are several regulations that surround Medicaid, especially how we're allowed to spend funds. For example, we can spend funds on transportation, but we can't spend funds on housing directly. And we know that housing is the biggest challenge for many of our members, especially in Baltimore City.
We're always looking for ways to try to have a little bit bigger impact with what's in place from the state, whether that's with funds or pilot programs. One example of that is a state pilot program we're supporting for maternal health, including doula services for expectant mothers. We're also focusing on meeting our Medicaid and Dual Eligible Special Needs Plan members where they are; in reaching them in every possible way so that they understand the care options available to them. It's free; we just have to get them there.
"We're part of the fabric of Maryland, not just simply a health insurance company. It's important for us not to just be a business, but to be an organization that advocates for and positively impacts our community."
Mike Rapach, CEO, CareFirst BlueCross BlueShield Community Health Plan Maryland