COVID-19 Tests—Which type is best?
Comparing PCR and Rapid Antigen Tests
There is no right or wrong answer regarding which COVID-19 test is best. Choosing the proper COVID-19 test for you depends on how you feel, why you are taking a test and which tests are available in your area.
PCR Testing
Polymer chain reaction (PCR) tests are the most accurate for COVID-19 testing. They are usually used at testing sites (though some sites offer rapid antigen tests too). If you get a PCR test and it's negative, it's very unlikely that you have COVID-19. However, it's so sensitive that it may show up as positive for weeks even after you've recovered and are no longer infectious.
PCR tests are performed in a laboratory or healthcare setting. Using a swab, you or a technician will collect a sample of cells from your nose, mouth or throat. Most COVID-19 tests used in the United States use cells from the nose.
After collection, the samples are treated with an enzyme solution and examined under extreme amplification (copied multiple times). This technique allows test centers to identify the exact genetic materials in the sample, including the identity of a specific virus.
Since the tests examine microscopic bits of a virus's genetic material, they are highly reliable—often close to 100%. The downfall to the process is the time that it takes and the fact that lab analysis is required to get results. PCR tests only take a few hours to produce results. However, increased demand and the number of tests for which a particular lab is responsible delays results—often turning hours into days.
In mid-2020, the Food and Drug Administration (FDA) began approving at-home PCR test kits that allow you to collect a sample at home and then send it to a lab for testing.
Steps for PCR COVID-19 Testing
Schedule an appointment with a testing center or order a kit online.
When you arrive at your testing center or receive your kit, a technician or you will insert a testing swab into your nose.*
Go home or send in your test kit and wait for the results.
*If you are swabbing, you will be instructed how far to insert the swab into your nose and how many swipes to take inside each nostril.
Usually, you will swab each nostril with the same swab for the best results.
How long it takes will depend on the lab or service you use and the demand in your area. It typically takes several days to receive results from a PCR test.
There are also a few options for nucleic acid amplification tests that can be used at outpatient clinics and can provide a result in about 20 minutes. These tests look for nucleic acid from the virus instead of antigen.
Pros and Cons of PCR Tests
Pros

Cons

Highly accurate
Can detect the virus in asymptomatic people

Can be too sensitive (e.g., showing a positive result long after you are contagious)
More expensive
Takes more time
Home tests must be sent to a lab for results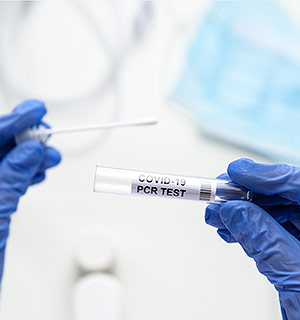 Rapid Antigen Testing
Rapid antigen testing is performed with over-the-counter at-home COVID-19 tests. The benefit of these tests is that you get results within approximately 15 minutes, while PCR testing can take hours or days to provide a result. The disadvantage to this type of test is that it's less sensitive. A positive rapid antigen test is most likely a real positive. But a negative result with an antigen test may be a false negative. If you test negative when using an antigen test, it's recommended that you retake the test a couple of days later. If you have two negative tests a day or more apart, likely, you don't have COVID-19.
Rapid antigen testing looks for pieces of the viral proteins from the SARS-CoV-2 virus (antigens) that cause COVID-19 rather than genetic material (nucleic acid from the virus). These tests are quick and are often used to detect other viruses that cause illnesses like the flu, respiratory syncytial virus (RSV), and sexually transmitted infections (STIs).
The FDA has approved several rapid antigen tests for COVID-19 because they offer a more simple and accessible option for testing.
Steps for Rapid Antigen COVID Testing
Order your test kit online or pick it up from a store or healthcare office.
Open the kit and read the instructions carefully. Each manufacturer may have different instructions to follow.
You will usually be instructed to wet the testing area with a liquid from the kit.
Use the enclosed swab to collect your sample. This typically involves circling the swab several times in each of your nostrils.
Once you are finished swabbing, place the swab onto or into the test kit as instructed. The swab will begin producing a result when it reacts with the testing surface and liquid.
While you may see results almost immediately in the form of a colored line or another sign, wait until the instructed time to confirm your results. Many tests state results are reliable in 15–30 minutes.
Pros and Cons of Rapid Antigen Tests
Pros

Cons

Can be done entirely at home
Results in less than an hour
Costs less than a PCR test
Suitable for repeated or serial testing
Helpful to differentiate cold/flu symptoms from COVID-19

Less accurate than PCR
Does not work as well if you have no symptoms
Accuracy depends on the quality of the sample you collect
User error can affect results
Which Test Should You Use?
Both PCR and rapid antigen tests offer reliable options for testing if you have symptoms that could be from COVID-19. There is a time and place for each type, and which one you choose will depend on your situation and symptoms. For example, don't use the PCR test to determine if you're clear of infection. Or if you have symptoms and get a negative result from an antigen test, you may still want to get a PCR test to confirm.
If you have questions about COVID-19 testing, symptoms or treatment, talk to your doctor or another trusted healthcare provider.
CareFirst covers the cost of COVID-19 tests administered by a healthcare provider for diagnostic purposes and over-the-counter tests that meet the requirements of the federal mandate. People may also access free or affordably priced testing in the community. You can find a list of community-based testing sites here.
Also, note that all American households can order free COVID-19 tests from the federal government. Visit covidtests.gov, and click the blue "Order Free At-Home Tests" button. Then, complete and submit the online form. Everyone qualifies. You do not need health insurance to receive your free tests.