A Difficult Choice: Vaccinating Our Children
Deciding whether to vaccinate kids is weighing on parents. Here are tips for decision making and coping.
Deciding whether to vaccinate kids is weighing on parents. Here are tips for decision making and coping.
In the early part of the pandemic, parents were trying to balance having no childcare, virtual schooling and work with their expectations of being a good parent and a good employee. During this time, many parents identified decision fatigue as a major difficulty.
For example, what had been everyday life—having a scheduled playdate—became an agonizing decision. Do we keep the playdate? Do we move it outside? If we're outside, should we still wear masks?
And now, we're at another vital decision. Should you get your child vaccinated?
Children as young as six months of age can be vaccinated against COVID-19. And, as a healthcare company, CareFirst recommends giving serious consideration to vaccination to help reduce the risk of serious illness related to COVID-19 and help slow the spread.
But as parents ourselves, we recognize this decision is yours to make. And it must be informed.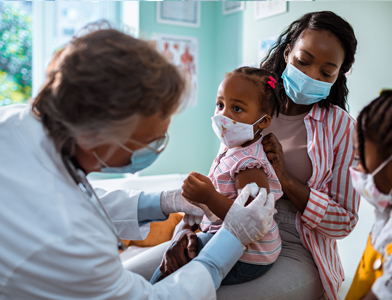 "Every day, we make choices in life, relying on details gathered by our senses—sight, sounds, smells. This information makes us feel like we have a level of control over our environment. Our brains struggle to commit when the data needed to make such choices is invisible. Allowing yourself to loosen control and rely on trusted sources of truth is necessary in these moments," says CareFirst's Director of Behavioral Health Services, Oleg Tarkovsky.
Shannon R., a CareFirst member and mother of two aged 5 and 9, is vaccinated herself but hesitant to have her children get vaccinated.
"I'm dragging my feet on getting my kids vaccinated. I guess I'm not convinced the little ones need it. I'm concerned about the side effects and long-term effects of both the vaccine and contracting COVID. I think I will have a conversation with our pediatrician about the shot if it becomes a requirement for children," says Shannon.
No matter where you fall on COVID-19 vaccination, making a decision on behalf of your child and defending that choice to those around you who have different perspectives can be exhausting.
"I feel alone in being on the fence about vaccinating my kids. This decision seems to polarize people, and there is real peer pressure to vaccinate or not to vaccinate," she adds.
"Decisions like these are difficult because they become directly tied to our identities. In other words, they become who we are, not simply what we do. Separating our judgments of ourselves and others is a critical first step in choosing whatever option makes sense to each parent," says Tarkovsky.
Make an informed decision
If there is a particular element regarding COVID-19 vaccination in children concerning you, don't hesitate to ask questions. Your family doctor has the privilege of getting to know you and your family as they provide care. And they are equipped to address any concerns related to the COVID-19 vaccine.
"If a parent comes into my office asking questions about whether or not they should get the COVID-19 vaccine for their [child], it's an excellent sign because it is good to have questions," says Robert Sadowski, M.D., pediatric specialist and CareFirst Medical Director.
To address some questions about the vaccination of young children, we have produced a Q&A session with CareFirst Vice President and Chief Medical Officer, Tich Changamire, M.D., answering a broad range of questions from a real mom.
When doing your research, make sure you use reliable resources, such as:
These sites provide up-to-date statistics about COVID-19 and advice from top medical experts.
Once you make your decision, communicate it to your medical provider and family so they are aware and can respond appropriately. For example, if you choose not to vaccinate your child, perhaps grandma will opt to take Timmy to a state park instead of a theme park, which may be more crowded.
If you are waiting to vaccinate your child, it's important to continue to monitor the spread of COVID-19 and its variants. For example, the omicron variant, while mild for most adults, is a cause for concern in young children. According to the AAP, more than 325,000 infections in kids were reported during the week ending December 30, 2021 marking a 64% increase in new childhood cases compared to the previous week.
The majority of the children who end up being hospitalized with COVID-related illness are too young to be vaccinated or have not completed their vaccine series. If you are seeing coronavirus cases rising in your area, it may be worth another conversation with your doctor to determine if you are appropriately weighing risk and benefit.
Discussing vaccination with your child
As a parent, you have the final say in whether your child receives the COVID-19 vaccine. But it is important to get their perspective and discuss your reasons behind your choice.
"When talking to your kids about vaccines or anything else for that matter—listen first, talk second. Children need to be heard and understood, just like the rest of us. Create a safe, distraction-free space to express what they think and feel, especially during stressful times. Really listen, don't interrupt, eventually giving your point of view. But most importantly, kids learn from our actions. What we do and how we talk about COVID-19 with others will speak louder than words," says Tarkovsky.
Need help coping?
You're not alone. The official journal of the American Academy of Pediatrics released the results of a national survey on the well-being of parents and children during the pandemic. The researchers found that since March 2020, 27% of parents reported worsening mental health.
Talking to a mental health provider can help you regain a sense of control.
"By talking to a mental health professional, you can learn new coping skills leading to decreased stress. You can discover more effective ways to interact with people in your life. And you can possibly find the lost joy you've been missing for almost two years," says Tarkovsky.
CareFirst has several mental health resources available to most members,* including the CareFirst Behavioral Health Digital Resource together with 7 Cups of Tea** (7 Cups), the world's largest behavioral health support system. The resource is available 24/7 at no additional cost to CareFirst members.
*Currently, Medicare Advantage, Medicaid and FEP members aren't eligible for The Behavioral Health Digital Resource service.
**7 Cups is an independent company that does not provide BlueCross BlueShield products or services.