CareFirst Awards More Than $3.1 Million to Maternal and Child Health Programs in the Region
Baltimore, MD (May 11, 2015) - CareFirst BlueCross BlueShield (CareFirst) will award more than $3.1 million to seven health care organizations working to improve the health of uninsured and underinsured mothers and their babies – particularly those in the National Capital Area, where the infant mortality rate still exceeds the national average.
Last year, CareFirst issued a request for proposals to improve birth outcomes and infant mortality in Maryland, Northern Virginia and Washington, D.C., by addressing such contributing factors as safe sleep habits, smoking and substance use cessation, prenatal care, spacing between pregnancies, breastfeeding, treatment of maternal mental health and maternal obesity prevention.
During the next three years, the following health centers and nonprofit organizations will receive CareFirst's support for programs focused on one or more of these contributing factors:
Community Clinic Inc. — $748,506 to expand its prenatal care services in Prince George's County, Md.;
Community of Hope — $615,000 to improve the poor birth outcomes in Ward 8 of the District of Columbia;
Northern Virginia Family Service — $564,301 for its perinatal maternal mental health initiative in Alexandria, Arlington and Fairfax;
Access to Wholistic and Productive Living Institute — $447,612 to expand the Bright Beginnings program, a home-visiting program in Prince George's County;
Mary's Center — $376,693 to boost prenatal care in Prince George's County and the District's Ward 4;
MedStar Washington Hospital Center — $262,311 to support reproductive health care and psychosocial services for pregnant and parenting youth in the District's Ward 8; and,
SCAN of Northern Virginia — $85,778 to purchase cribs and increase safe sleep education for its Operation Safe Babies program in Alexandria, Arlington and Fairfax.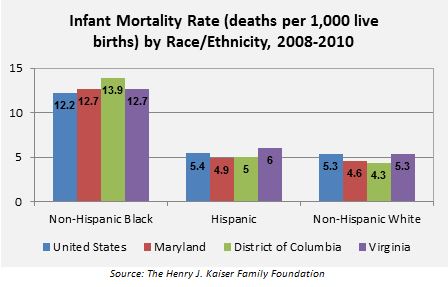 Combined with CareFirst's ongoing pledge to the Baltimore City Health Department's B'more for Healthy Babies initiative, the region's largest insurer plans to commit $3.8 million during the next three years to maternal and child health programs that could improve the health of more than 23,000 mothers and babies.
"Infant mortality rates in Maryland and throughout the National Capital Area have reached historic lows, but that's no reason to stop fighting the factors that continue to contribute to poor birth outcomes among disadvantaged communities," said Maria Tildon, CareFirst Senior Vice President of Public Policy and Community Affairs. "This most recent grant highlights our continued commitment to improving access to pre- and post-natal care and increasing health and educational resources available in communities with the greatest need."
Since 2007, CareFirst has contributed more than $10 million to maternal and child health initiatives, including the Perinatal Outreach Program, the Healthy Families Initiative and the Text4Baby Program.
About CareFirst BlueCross BlueShield
In its 78th year of service, CareFirst, an independent licensee of the Blue Cross and Blue Shield Association, is a not-for-profit health care company which, through its affiliates and subsidiaries, offers a comprehensive portfolio of health insurance products and administrative services to 3.4 million individuals and groups in Maryland, the District of Columbia and Northern Virginia. In 2014, CareFirst contributed nearly $55 million to more than 300 community programs designed to increase the accessibility, affordability, safety and quality of health care throughout its market areas. To learn more about CareFirst BlueCross BlueShield, visit our website at www.carefirst.com or follow us on Twitter.
Subscribe to CareFirst News
Receive the latest CareFirst news in your email.

Viewing and printing this document requires Adobe Acrobat Reader, which can be downloaded free from the Adobe site.