Community Report: Leading Through a Public Health Crisis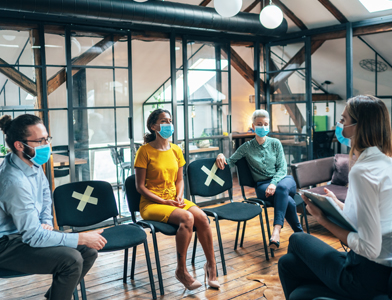 Every year the Blue Cross Blue Shield Association (BCBSA) produces an annual Community Investment Report to highlight the commitment of all Blues Plans to support the communities they serve.
In the 2020-2021 report, "Leading Through a Public Health Crisis," BCBSA highlights the "all-in" approach from the Blue System to support response and recovery efforts for the COVID-19 pandemic—a historic, unprecedented public health crisis. BCBSA companies collectively have invested over $11.5 billion in the fight against COVID-19, providing premium relief, distributing millions of PPE supplies, ensuring access to COVID-19 testing and rapidly increasing telehealth. This includes a total of $315 million contributed to community-based nonprofits to address the social issues exacerbated by the pandemic.
In the report, BCBSA shared highlights of CareFirst BlueCross BlueShield (CareFirst) efforts which infused $6.8 million into the community, supporting initiatives that directly benefited organizations working on the front lines of response, relief and vaccination efforts. Additionally, $200K was granted to eight Federally Qualified Health Centers (FQHCs) in Washington D.C. and contributed $1.2 million to vaccine education, outreach and delivery through the Better Together campaign.
CareFirst's community support goes beyond dollars and includes supplying resources, donating over 4 million meals/groceries to individuals and families in need and supporting local restaurants as part of providing meals to healthcare heroes.
To learn more about CareFirst's efforts, visit the Community Impact page.