Making a Difference in 2022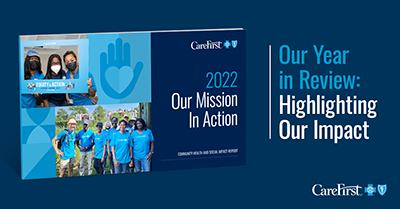 As the region's largest not-for-profit healthcare company, CareFirst continued its mission-driven efforts in 2022 to reach vulnerable populations in a meaningful way and address the root causes of health disparities.
In total, the company contributed $24 million benefiting 385 nonprofit organizations operating in Maryland, Northern Virginia, and Washington, D.C., with 400,000 individuals positively impacted by CareFirst's contributions and collaborations.
Notable investments in 2022 include:
$8 million to address behavioral health disparities for at-risk youth and expand the behavioral health workforce through 19 multi-year grants
$2.2 million for diverse nonprofits and small businesses to address obstacles beyond clinical interventions, specifically to advance economic inclusion and minimize barriers to family-sustaining wages
"The goals we set each year are designed to deliver on our equity agenda, in collaboration with nonprofit partners" said Destiny-Simone Ramjohn, Ph. D., Vice President, Community Health and Social Impact. "We continued leveraging our extensive network of valued partners to scale our impact throughout vibrant communities. Our successes in 2022 are a testament to the dedication of our diverse workforce, driven by our mission to realize accessible and affordable healthcare for all."
CareFirst's corporate giving program encourages employees to support community partners across the region, empowering our workforce to have a direct and positive impact on the health and wellness of the people we serve with care. In 2022, CareFirst employees contributed more than $820,000 in support of organizations including local United Way chapters, Special Olympics Maryland, the American Heart Association and more.
In addition to contributions through grants, sponsorships and public access programs, CareFirst employees logged more than 48,800 hours of volunteer service, infusing an additional $1.5 million in the communities we serve through their time and energy. This included enthusiastic support for 80 service projects throughout the region and nearly 1,500 Difference Makers participating in civic engagement activities for organizations including the American Red Cross, Capital Area Food Bank, First Fruits Farm, Moveable Feast and more.
View our 2022 Mission in Action Report.
To learn more about CareFirst's efforts in the Community, visit: www.carefirst.com/community.