Dental Care and Your Overall Health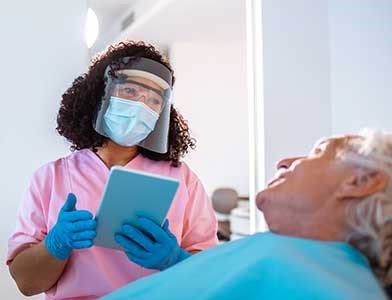 Taking care of the mouth is about more than having a nice smile. Your mouth reflects the overall health of your body. It can show signs of infection or disease before you experience other symptoms. That is why visiting a dentist regularly—even when you think your teeth are fine—is important. Brushing and flossing benefit your oral health, but routinely seeing a dentist is the only sure way to identify and treat problems.
Almost all systemic diseases have an oral component. A systemic disease affects the entire body. Systemic diseases include cancer, diabetes, kidney disease, high blood pressure, heart disease, auto-immune conditions and dementia.
"Good overall health includes good oral health. Cavities, gum disease, and other problems with the teeth, roots and jaw can contribute to or worsen medical diseases. Good oral care may improve some medical conditions, including common ones like diabetes. Good oral care may also improve treatment outcomes in others, like many kinds of cancers," explains Kevin Park, M.D., Vice President of Clinical Operations, CareFirst BlueCross BlueShield (CareFirst).
Maintaining dental health pays
"Healthcare includes the entire body, as all systems are connected. Dentists see firsthand the impact of chronic inflammatory diseases, like diabetes, on oral health. And we are eager to contribute to improved whole health outcomes for our patients. We also recognize the value that preventive dental care has in reducing avoidable patient expenses," says Cheryl Lerner, D.M.D., Dental Director, CareFirst.
As a not-for-profit healthcare company with 3.6 million members, CareFirst has unique insight into the cost of care. 37% of CareFirst members have at least one of 10 conditions* for which dental care can positively impact patient outcomes. For the identified population, on average, those who use their dental benefit:
Spend 15% less on medical costs
Have a 23% lower admission rate
Spend 20% less on admission costs
Have a 22% lower emergency department visit rate
Similar findings were presented in a recent study, for which researchers at Mayo Clinic recruited people who had either diabetes or heart disease or both conditions. The team compared the total healthcare costs of those who had gone to at least one preventive dental visit to those who did not receive any preventive dental care.
The study found that, on average, people with diabetes who received preventive dental care saved $549 on their total healthcare costs. Those with heart disease who visited the dentist saved $548, and patients with both conditions who visited a dentist saved about $866.
"This data is critical to help us understand health outcomes and how we can meet our members where they are to increase routine dental care, which aligns well with our mission—to improve accessibility, affordability, and overall quality of care for our members and communities. Focusing our efforts on creating and optimizing service offerings and partnerships that promote dental care will make an impact on lowering healthcare costs and ensuring healthier lives," says Tich Changamire, M.D., Vice President and Chief Medical Officer, CareFirst.
To learn more about how CareFirst is supporting whole-person care, visit Complete Care.
---
*The 10 conditions are as follows: ENT cancer, oral cancer, cardiovascular disease, COPD, dementia, diabetes, hypertension, pregnancy, renal failure, rheumatoid arthritis.