Helping Members Manage Diabetes from the Comfort and Safety of Home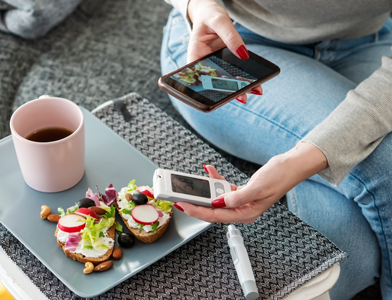 Type 2 diabetes isn't a new disease in the medical world. Health professionals know how it develops, the complications that can arise from it and what's required to manage it and even overcome it.
Yet, despite all that we know, treating it remains a struggle. Many people living with type 2 diabetes still find it challenging to keep their blood sugar levels under control.
Then you add COVID to the mix
Concerns of the coronavirus have made it even more difficult for those living with type 2 diabetes to do the things that keep their blood sugar in check, like maintaining an active and healthy lifestyle.
Patients are also canceling appointments with the doctors and specialists who help them manage their disease. According to the CDC, approximately 41% of U.S. adults have avoided their doctor because of concerns about COVID-19.
For people with type 2 diabetes, this deviation from the norm can come at a high price, leading to long-term complications caused by uncontrolled blood sugar levels, including:
Nerve and blood vessel damage
Kidney damage
Vision loss and blindness
Skin conditions
Hearing impairments
Heart attacks
Strokes
Amputation
Dementia
What can be done to help?
CareFirst has partnered with a leading diabetes management company, Onduo*, to provide a Diabetes Virtual Care program. This national solution is one of many initiatives CareFirst has launched to improve the affordability of healthcare, a top priority of the organization.
Leading the effort is CareFirst's Clinical Programs and Evaluation team, managed by Vice President Arif Khan. This group, which is focused on improving the healthcare experience, is dedicated to finding new ways to make costs more manageable. The Diabetes Virtual Care program is an example of this. It's free to qualifying members.
"By removing the financial barriers to care, CareFirst ensures members have access to what they need to better manage their chronic disease," said Arif Khan.
Participants in the program receive the following resources:
A1c kit and educational materials
Test strips and connected meter
Continuous glucose monitoring tool
Supported self-care with assigned Care Lead and virtual clinic team
For members concerned about in-person doctor visits during COVID, the Diabetes Virtual Care program minimizes risk while maximizing the care they receive in the comfort and safety of their home. It's a high-tech, high-touch solution for a high-cost disease that's helping members manage their diabetes during these extraordinary times, and beyond.
What is a Care Lead?
Every participant in the Diabetes Virtual Care program is assigned a Care Lead. This individual is trained in general health and wellness, motivational interviewing and behavior change. They provide one-on-one support to help the participant manage their disease through personalized interactions and goal setting.
The early results are promising
"In just the first several months, the Diabetes Virtual Care program is already making a real difference for our members," said Khan.
Initial results show that:
Participants with an A1c >9 have seen a 2.2 point improvement, a significant improvement in their blood sugar control
72% of participants have improved their diabetes distress
Nearly 50% of participants reported that they are less concerned about the side effects and financial burden of their medications
Khan believes "a big part of the program's early success is that, compared to other solutions, we use continuous glucose monitors as a diagnostic to measure impact." Though the initiative's long-term success is still to be determined, how people feel about the program is not.
Said one CareFirst member, "I am loving it! I was nervous at first about seeing my numbers at any time, thinking I would have some really high levels at some points. But so far, so good."
Members who need help managing their type 2 diabetes should discuss this program with their doctor. If together they determine this program could support their care, members can visit www.onduo.com/carefirstrefer to confirm eligibility and sign up.
---
Resources: CDC; Harvard Medical School; Mayo Clinic
*Onduo offers certain care management and coordinated clinical care programs for eligible individuals, as further described in these materials [and its website at onduo.com]. Onduo LLC and a network of affiliated professional entities (collectively, "Onduo") collaborate to offer the services. Onduo services are meant to be used in conjunction with regular in-person clinical services and not intended to replace routine primary care.