Making a Promise of Prevention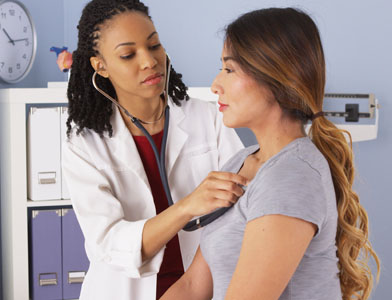 This is the time of year when many people make "resolutions" to improve themselves and as a physician, I get excited to hear that people are taking steps to be healthier. Unfortunately, more than 80% of people who make New Year's resolutions do not keep them. Instead of a resolution, I want you to do something different as it pertains to your health and well-being this year.
For 2023, make a "promise of prevention," and take steps to stay on top of your health and wellness this year. One might ask, where do I begin? Or what are the steps I should take to safeguard my wellbeing? I pulled together the following thoughts on health and well-being promises that I want others to make for themselves:
See your doctor for regular screenings and annual exams. It's easy to deprioritize these activities, but it is critically important to regularly see a doctor—not just when you are sick. Now's the time to check in with your primary care physician who can tell you what screenings you need and assess your overall health. Better yet, sign up for CloseKnit and enjoy the convenience of virtual care 24/7.
Be mindful of COVID and get a booster. As we are experiencing a tripledemic, if more people were vaccinated and boosted against COVID-19, or obtained treatment when infected, the number of deaths could be far less than what they have been as of late. Now is the time to get your COVID booster shot. The CDC recommends a second booster shot for people over 50 or those with certain medical conditions. Talk to your doctor about whether a second booster is appropriate for you.
Get a good night's sleep. Sleep is essential to every process in the body. Not only does it affect your physical and mental functioning the next day, getting enough sleep on a regular basis enables your body to fight disease and develop immunity; it helps your metabolism; and it reduces your risk for chronic disease.
If you are at risk for Diabetes, get blood work to check your A1C. If you are over 45, overweight, or have a close family member with Type 2 Diabetes, you are at risk. About 1 in 5 people with Diabetes don't know they have it, and more than 8 in 10 adults with Prediabetes don't know it. If you do have Diabetes or Prediabetes, understand how it affects your health and work on lowering your A1C.
Keep moving! A lot of people join a gym in January, only to abandon their overly ambitious workout plans by February. There are simple (and free) ways to help you get regular exercise that don't involve going to a crowded gym. If you are a CareFirst member, you can participate in the new CareFirst WellBeingSM program to track your personal health journey, and earn rewards through monitoring your physical activity and nutrition.
Spend time with people or doing something you love to do. If your job is hybrid, make time to go to the office. Spend some time talking and meeting with your colleagues. Getting out of isolation can boost your mood and benefit your physical health. Studies have shown that connecting with friends can boost your brain health and even lower your risk of dementia. Be sure to take your PTO, try volunteering, and take time to do the things that make you happy.
Your mental health is connected to your health wellness! Your mind and spirit are just as important as your body, and they deserve to be healthy too. As the stigma surrounding mental health continues to break down, it is important to utilize the various resources that are available to individuals. CareFirst members have access to mental health resources through 7 Cups, CloseKnit, Headway and providers in our network that can be found through Find a Doctor.
I know it may feel like I have just given you a long "to do" list. Instead, I want you to think of this as a "self-care checklist" to fill out at your own pace throughout the year. Even promising to do just one or two things on this list is sure to bring you a happier and healthier 2023 without feeling guilty in February because you broke an unrealistic resolution.
With Care,

Tich Changamire,
Chief Medical Officer
CareFirst BlueCross BlueShield