New, Free Resource Helps Members Manage Their Medications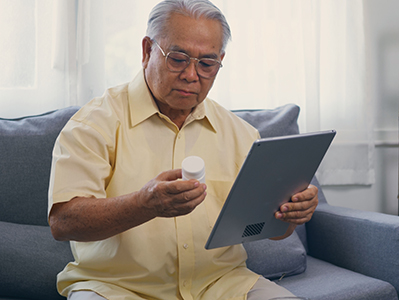 As a leading health plan focused on providing affordable, accessible and equitable healthcare, CareFirst BlueCross BlueShield (CareFirst) is committed to empowering members to take charge of their health. Through a new partnership with Baltimore-based medication engagement company, Scene Health, CareFirst Community Health Plan of Maryland (CHPMD) members now have access to a resource that provides medication support through personal video engagement and coaching.
Replicating the model of care used in hospitals, Directly Observed Therapy, Scene's digital medication support program has proven effective for patients. Scene's approach involves a care team of pharmacists, nurses and health coaches interacting with patients through daily back-and-forth video exchanges and texts on an app called Spotlight by Scene Health, to support patients in taking their medications as prescribed.
Medication adherence—the act of taking medications as prescribed and directed—may seem simple. It's often assumed that patients take the right dose, at the right time and in the right way. But according to the Centers for Disease Control (CDC), medication is not taken as prescribed as often as 50% of the time. Not understanding instructions, forgetfulness, managing multiple medications with different instructions and uncomfortable side effects are all common reasons why a patient may not take their medications as directed.
Furthermore, the CDC estimates that nonadherence causes 30 to 50 percent of chronic disease treatment failures and 125,000 deaths per year in the U.S.
Medication adherence is essential to managing health. While taking medication as prescribed leads to effective treatment of illnesses and symptoms, contributes to effective disease management and encourages positive clinical outcomes, it can also prove cost-effective for many individuals. Preventative care often is less expensive to maintain compared to reactionary care for an illness.
Scene Health, a Healthworx (HWX) portfolio company, shares CareFirst's vision of patient-centered care while encouraging individuals to take an active role in their health.
Health and wellness go beyond the four walls of a doctor's office. Maintaining a healthy lifestyle can happen anywhere—even through an app on your phone.
To learn more about Scene Health and the program (or similar) visit www.scene.health/enroll/carefirst.
To learn about eligibility, contact the customer service number on the back of your insurance card.