How Plans Are Supporting Providers on Their Value-Based Care Journey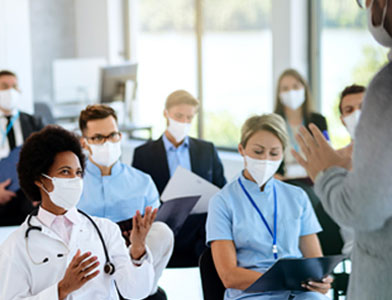 The pandemic highlighted the shortcomings of fee-for-service for many providers and spurred renewed interest in value-based reimbursement arrangements. Yet, while there is more willingness, many providers admit they are unprepared to take on risk.
World Congress recently hosted a panel discussion featuring industry experts discussing how health plans are helping providers transition gradually into value-based care models, sharing philosophies, programs, results and lessons learned.
Brian Wheeler, Vice President, Provider Collaboration and Network Transformation, CareFirst BlueCross BlueShield, participated as a panelist with Karen Amezcua, Senior Director, Provider Partnerships, Blue Cross Blue Shield of Minnesota and Oraida Roman, MHA, Vice President of Value-Based Strategies, Humana.
The panel, moderated by Lori Logan, Chief Product and Client Officer, Geneia, shared insights on the importance of applying a phased approach to accelerate success in value-based care arrangements, meeting providers where they are in their journey. Additionally, they discussed:
How plans and providers can work together on focused solutions that address immediate needs, early wins and ROI, and alignment on value-based and clinical goals
New value-based programs or initiatives developed during the pandemic, including those focused on primary care
Common challenges plans face (and solutions to overcome them) when working with their provider partners on value-based care arrangements
Ways to provide more insight into pandemic deferred care and how to help providers find and prioritize those patients
Read the full panel discussion recap in a recent Healthcare Innovation article.