Removing Barriers to Diabetes Care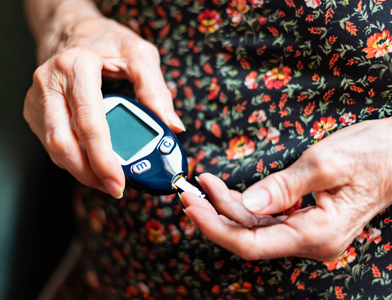 Diabetes is a chronic health condition affecting more than 10% of the U.S. population.
What we're experiencing is somewhat of a silent national epidemic. Most people with prediabetes don't even know they have it. It often shows no clear symptoms until it progresses to Type 2 diabetes.
So, what's the silver lining? In many cases, prediabetes is reversible and with proper management, people with diabetes can live long and healthy lives.
What's CareFirst doing to shift the norm?
For starters, we're investing in the lives of people that need the most help.
According to a Yale University study, 25% of people with diabetes delay insulin use because it's too expensive. Also troubling is the fact that over a third of those people don't discuss their underuse with their doctor. When diabetes is not well managed, complications can develop that threaten health and endanger life.
In 2019, fully insured CareFirst members had nearly $6 million in out-of-pocket costs for insulin. That translates to an average of about $119 each time they filled their prescriptions. That's too much.
As a leading healthcare provider, we need to tear down financial barriers to health. That's why beginning in 2021 for new sales or upon renewal, CareFirst's fully insured plans will include a $0 cost-share on insulin and diabetic supplies prior to meeting a deductible. * With deductibles ranging from $1,000 to $7,900 in Maryland's individual market, members will be able to access their medications at no cost, on day one.
Our approach to diabetes prevention and management is holistic. That means we're treating the whole person, not just the most visible symptoms. And with a chronic condition like this, people may experience depression or anxiety while trying to manage their care.
By offering a variety of programs as part of our plans to meet members' varied needs, we're reducing the number of members with prediabetes and helping those living with diabetes get access to the care they need.
Sources: Yale University, CDC.gov
---
* These proposed benefit changes for fully-insured plans are subject to regulatory approval.