Healthworx, Halcyon Partnership Provides Critical Mentorship to Startups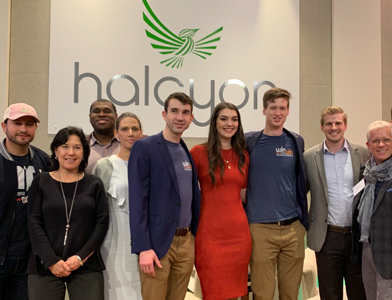 Healthworx, CareFirst BlueCross BlueShield's (CareFirst) innovation and investment arm, began partnering with Washington, D.C.-based incubator Halcyon in 2019 to support the growth of startup companies addressing challenges related to the health and wellbeing of our communities.
"Halcyon has made a huge commitment to our area, and to social entrepreneurship around the world," said Tim Cox, CareFirst Community Health and Social Impact senior director. "There are things in healthcare that aren't working, but we can help bring forward disruptive ideas that, with incubation, can be successful. Our partnership with Halcyon can make that happen."
Halcyon programs, according to Nicole Weissman, director of communications, are where the arts and social enterprise meet. Halcyon supports startup companies in small groups several times a year by providing a physical living space, stipend, mentors, educational programs, and other resources designed to help founders develop the skills and networks to scale their businesses successfully.
When Halcyon began seeing healthcare startups as regular parts of their cohorts, it highlighted an opportunity to think about how they could deepen the support and resources available to those companies.
"We saw an opportunity where we were incredibly aligned with Healthworx," said Halcyon Chief Innovation Officer Ryan Ross. "[They are] looking at innovation that is up and coming in the healthcare sector, and they also have the investment lens as well. They are the exact type of strategic partner that our fellows need to be speaking with, working with and getting mentorship from."
The partnership formed the first-ever healthcare vertical in the almost 7-year old incubator's history. "What has made Healthworx such a great partner in this work is that they have innovation in their DNA," Weissman said.
Healthworx aims to do good in the world by creating a strategic intersection of healthcare and innovation, according to Ricardo Johnson, Healthworx vice president.
"We sponsored Halcyon and are committed to providing mentorship to companies in their program because we are always looking for ways to improve and transform healthcare," said Johnson. "We strongly believe that we don't have to do this work alone—there is so much talent in this region, and across the nation; we have an opportunity to partner and make innovation work harder to improve healthcare affordability, convenience and quality."
Healthworx Mentorship to Startup Addressing Elderly Social Isolation
Win-Win Homesharing, a social venture that pairs college students in need of affordable housing with isolated seniors in need of companionship, participated in Halcyon's Cohort 12.
"The mentorship and support we received through Healthworx and Halcyon were like no other," said Kat Kelly, co-founder of Win-Win Homesharing. "They helped guide us; they were patient and generous and were connected to the right people in our space."
Kelly shared that as an entrepreneur sometimes you think you are going in the right direction, but you are not really sure that it's the right path. "Healthworx and Halcyon helped us refine the toolset that we had—they gave us the compass to follow the map that we had laid out," she said. "Tim has so much experience in the senior industry, so it was really valuable that he could help us think through the tangible steps to make things happen."
COVID-19 disrupted the Win-Win Homesharing team's time at Halcyon. Kelly and her co-founders returned to Canada from Washington, D.C. when the pandemic hit, causing them to lose the momentum they started to see with their venture.
"We had to rethink our dream for the safety and wellbeing of the seniors we were looking to serve," Kelly said. "Without Halcyon and Healthworx, we wouldn't have been able to gather ourselves to figure things out. With mentors…we had great insights, positivity, and optimism at a time when we felt sadness and grief. Their support gave us the energy to want to do better and work harder."
Kelly and team gracefully pivoted away from their homesharing solution and began exploring ways that they could bring technology solutions to isolated seniors without requiring them to purchase or learn how to use new technology.
"Our new solution, Good Morning, allows seniors to use a landline telephone to do things like order their groceries, get medication reminders, check in with a loved one or coordinate their transportation for the day," said Kelly. "Many seniors don't understand the full capabilities of technology or won't learn how to use a new app. In a time of global isolation, this is really needed."
While Kelly was disappointed to miss out on the in-person aspects of the incubator, she shared that Halcyon worked their hardest to make sure everyone still felt a sense of community in a stressful time.
"We all have the same bump in the road right now (COVID-19), but we're experiencing it in different ways. We powered through so much, and I am so proud of my team," Kelly said.
Significance of Addressing Social Isolation of Older Adults
For many people, COVID-19 has produced social isolation for the first time in their lives. Unfortunately, for nearly 24% of older adults in the U.S. , social isolation is not just the result of a global pandemic.
Research indicates that social isolation contributes to early deaths, high blood pressure, obesity and other significant health implications—ultimately contributing to higher volume and frequency of healthcare use.
"How we care for seniors is going to be fundamentally different in a post-COVID world. Right now, we're still in the midst of a pandemic in such a way that we're still adapting, but things are going to change," said Ross. "Things have to change because the sad facts are that seniors have borne the brunt of the type of pain that we experience in this type of environment for a number of different reasons. How we think of having people age in place as opposed to going into large homes and care facilities, what role technology plays in all of this…we're going to unpack a lot of that."
About Healthworx
Founded in 2017, Healthworx is the venture capital, corporate development, and commercialization arm of CareFirst BlueCross BlueShield. Healthworx enables CareFirst to partner with a wide range of organizations to bring breakthrough healthcare solutions to its members and communities. Through strategic investments and partnerships, Healthworx furthers CareFirst's mission to improve healthcare quality, increase access to care and reduce costs for its stakeholders.
For more information about working with Healthworx, email comms@healthworx.com.