Innovation Challenge Increasing CareFirst Impact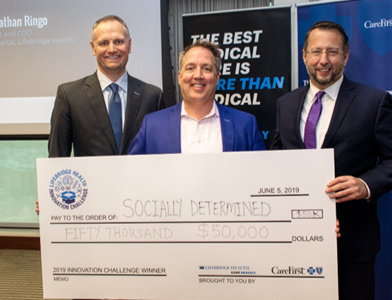 Last year, CareFirst and LifeBridge Health partnered to host a Shark-Tank* style competition. Applicants pitched ideas to a panel of industry experts, including CareFirst executive leadership. The company, Socially Determined, won the inaugural event and the $50,000 prize.
Today, that same company has partnered with CareFirst and LifeBridge Health. Together, we're working to improve health outcomes in communities across the Mid-Atlantic region. Specifically, communities that are struggling with food insecurity, low health literacy and housing instability--the social determinants of health that affect risks and outcomes.
The data Socially Determined collects helps CareFirst target our efforts. Six locations have already been identified: Four in Maryland, one in Washington, D.C. and one in Northern Virginia. CareFirst is now working with these communities. We're conducting deep dives to develop specific programs to address needs related to diabetes.
"CareFirst is expanding the dialogue around innovation within our own organization. We're interested to learn more about the ideas others have for transforming the healthcare industry," Brian Pieninck, president and CEO of CareFirst, said of the initiative last year. "Thinking of better, smarter ways to deliver care will make a difference in improving the health of those we serve."
CareFirst expects to host more innovation challenges in the future.
---
*Shark Tank is a registered service mark of Sony Pictures Television, Inc.