The Role of Technology in Efficient and Equitable Vaccinations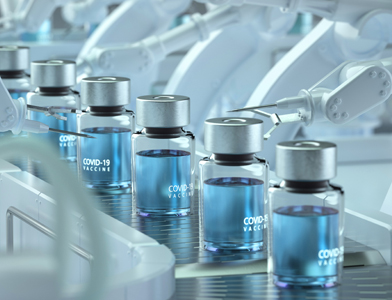 For the past year, the COVID-19 pandemic has been defined by "surges"—surges in infection, hospitalization, unemployment, federal funding, and soon, hopefully vaccine availability. But government processes and systems were not designed to handle these recurring and concurrent surges.
Due to the speed, complexity and scale of the COVID-19 virus, public health organizations' operational capacity has been tested and stretched thin. The rollout of the COVID-19 vaccine exposed gaps and has only further overwhelmed the ability to facilitate mass vaccinations.
Considering this pandemic as an example of challenges we have faced and opportunities to enhance processes, we must figure out solutions to support the current and, unfortunately, the possibility of future needs.
The need for an integrated federal vaccination framework and a cohesive portfolio of vaccine management program capabilities has presented itself. Taking the experiences to date as lessons learned and applying them to drive the creation of a unified national strategy to efficiently and equitably distribute vaccines, immunize people and monitor progress in dispersed environments with multiple entities is the approach needed. While numerous debates circulate on the differing levels of preparedness, the path forward goes beyond pointing fingers but depends on forming partnerships with stakeholders, acknowledging we can't do this on our own.
Simply stated—process and technology must have roles in vaccine rollouts to the masses. And we must take on this overwhelming task together, forging partnerships in unchartered territories, reallocating budget dollars, all to avoid the risk of overlooking communities impacted most and get better at this historic moment in time.
The Evolution of Vaccine Management: Past, Present, and Future Considerations
In the early stages of vaccine distribution, most state and local public health departments, healthcare provider networks and nongovernmental organizations did not have, or necessarily need, the complete suite of capabilities that come with most of the technology solutions marketed.
As many technology companies have been actively marketing vaccine registration solutions intended to manage all vaccine distribution and administration stages, race against time, resource and budget constraints have prevented implementing such solutions.
In the absence of a global (coordinated federal & state) incident command structure, it is often unclear who the "buyer" of a vaccine management system or service is, creating a barrier. Out of necessity, Federal, State and Local governments' distinct roles and responsibilities dictated which capabilities could or should be centrally managed and which ones should be delegated or outsourced.
Just as we have referenced COVID-19 as a new virus and evolving challenge to overcome, this is a brand-new opportunity to remove barriers and confusion on who owns what and recognize the market is still immature. Adoption is taking significant time and effort to work as promised.
Patience is a virtue, but in the race against time, navigating the path forward comes with many detours. The sentiment of we are all in this together remains apparent, and how we apply that to being human, not having all of the answers and move beyond nuances to create a playbook to act in a unified manner is essential.
The risks and costs of operating within fragmented vaccine management operating models have been heightened by poor interoperability among platforms and systems, limiting information sharing and coordination throughout the vaccine management ecosystem.
As such, this results in a series of privately funded efforts (ex., Microsoft, Salesforce) attempting to influence the public interest. The overall results? Delayed acceptance among potential buyers and frustration, especially among already overwhelmed small to midsize jurisdictions.
Examples of the critical role technology can play to monitor the process and accelerate efficient vaccine distribution include solutions applied in New York and Mississippi. New York is piloting vaccination certifications such as the Excelsior Pass. Mississippi deployed a simple, effective vaccine registration system alongside other platform options available from major cloud platforms such as Salesforce, Microsoft and multiple electronic health record vendors.
Dashboards to visualize the most vulnerable population needs, automated reminders and programming, and vaccine passport capabilities are only a few examples of currently underutilized technology solutions.
Looking Ahead
Change, overhauling procedures, solution implementations, trusting the process of this effort, in a time of surges in uncertainty, rightfully so, can feel like adding fuel to the fire of the overwhelm felt nationwide.
Consider what many businesses have experienced over this last year, and apply it to current the current state of vaccine management plans. Many businesses had to pivot at a pace never experienced before due to circumstances brought on by COVID-19. For some, their path forward included reinventing how they operate or what they produce and making necessary investments and shifts to protect their workforce and bottom line while serving their consumers and communities.
Taking that same approach and applying it to where our vaccine management process currently sits, our path to safely and effectively achieve herd immunity requires us to pivot and create a national vaccination management strategy aligned with technology solutions. Investing in innovative vaccination solutions, applying capabilities such as scheduling vaccination appointments, updating immunization registries or integrating with provider data and technologies will position us to accomplish this feat efficiently and equitably.
With the upcoming increase in vaccine supplies for the general population, the current approach will not support efficient vaccination efforts. Procuring available federal government funding and engaging in a strategy aligned with the utilization of technology solutions is required to evaluate and prioritize which capabilities are critical to scale and sustain vaccine distribution, administration and surveillance within jurisdictions.
For more information on COVID-19 vaccines, please visit the CareFirst Coronavirus Resource Center.