Why Healthcare Organizations Invest in Dedicated Innovation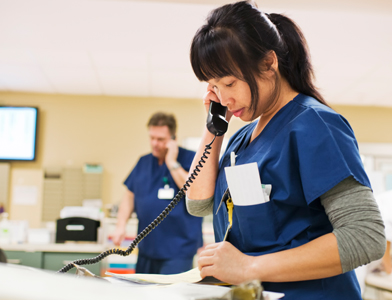 Leveraging the Lessons from an Atypical Year
One major lesson we learned from the pandemic is that strategic coalitions can bring enormous value to the public, rapidly and efficiently.
In early 2020, CareFirst BlueCross BlueShield (CareFirst) President and CEO Brian Pieninck joined leaders from two major providers, Johns Hopkins Health Systems (JHHS) and University of Maryland Medical System (UMMS), to help the Baltimore City Health Department handle the unfolding COVID-19 crisis. Data shows that this unprecedented joint effort between public and private providers and payers—organizations that often have unique interests— saved lives.
Moving forward, this combination of odd bedfellows will—and should—continue, as our national healthcare system faces challenges that are both new and longstanding. At Healthworx, CareFirst's innovation and investment arm, we are believers in strategic coalitions and the big, intrepid ideas that make them possible. Some coalitions may seem unlikely at first glance, but creative thinking and the right participants can bring speed to market, capital efficiency, a differentiated solution and tremendous opportunity for growth.
Recently, Healthworx's corporate development team negotiated an alliance with Highmark to create a health insurance offering designed specifically for labor unions and members. Independently, CareFirst and Highmark, which are both licensees of the Blue Cross Blue Shield Association, provide access to care to millions of Americans. CareFirst is a not-for-profit and the largest health insurer in Maryland, Washington, D.C. and Northern Virginia, while the Pittsburgh, PA-based Highmark provides health insurance administration services across Pennsylvania, Western and Northeastern New York, West Virginia and Delaware.
Working in neighboring markets, the organizations brought similar goals to the table as well as deep experience working with the labor market. By combining efforts, we found we could reduce costs and expand market reach. The solution, Union Blue, features a dedicated, labor-staffed service center providing world-class coverage and specialized support to the labor market. Union Blue features a high-touch experience, committed service and data analytics that enable both payers to generate insights about labor members' needs, as well as proactively manage their care and help improve health outcomes. And, there's potential to replicate this model.
Structure, we've found, can be critical to success. Any alliance can be challenged when objectives or financial motivations don't align. Maintaining strategic alignment between leadership over the long term needs to be assessed thoroughly from the outset. With Union Blue, we held joint leadership calls between the organizations regularly. The executive presence throughout the project also made a difference as we looked for the best way to build a strong alliance with another Blue organization.
The alliance with Highmark was successful because our teams went into the project with a mindset that we could learn a great deal from one another. In doing this, we can expand our footprint into areas we couldn't have with our own capabilities and resources. Building this relationship will, we hope, spark similar opportunities where members win because payers and healthcare organizations are working collaboratively to connect the dots in healthcare.
I challenge players in the current healthcare ecosystem to ask themselves this question moving forward: Are you thinking deeply about how industry relationships and collaboration can position you for growth, achieve your goals and deliver the most impactful health outcomes for members?
In 2021 and beyond, outside-the-box thinking is the only kind of thinking left: the box is gone. Get comfortable with the idea of unprecedented partnerships. Have conviction in your big ideas: healthcare needs them now more than ever. Then, with thorough data and no prejudice, find your best partner—and go after that idea.