COVID-19 Vaccine Information
Where Can I Get the Vaccine?
Every person across the United States, 5 years of age and older, is eligible for the COVID-19 vaccination. Vaccine supply is better than ever, and it's likely that you live within miles of a pharmacy that's administering the shot. Here's how you can find, schedule and get to your very own appointment.
Vaccines should be easy for everyone to access. That's why the government launched vaccines.gov. It's an easy-to-use tool that connects you to local vaccine providers. Once you find a provider, you can go to their site to schedule your appointment.

Find Your Vaccine Appointment Now
---
Go to vaccines.gov
Select "Find COVID-19 Vaccines"
Enter your ZIP code and how far you're willing to travel
Select "Search"
Select your vaccine location
You may need to re-enter your ZIP code on the provider's site
Find Local Guidance
COVID-19 guidelines change quickly, and many communities are rolling out new ways to deliver the vaccine. Check in with your local government regularly to stay in the know.
Grocery Stores and Pharmacies
If you have a preference in where you get your vaccine, you can always check directly by visiting the websites of major grocery and pharmacy chains. They've developed robust online platforms to help boost access to the vaccine. Check their scheduling websites for updated availability.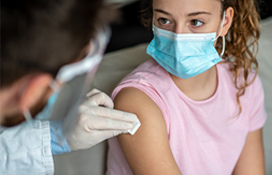 After You Get Vaccinated
Remember, you aren't fully vaccinated until two weeks after your final dose of the vaccine. J&J requires only one dose. Pfizer, Moderna and Novavax vaccines require two doses, three or four weeks apart. Find out what you can do and where you can go after you get vaccinated by visiting our "After You Get Vaccinated" page.