CareFirst BlueCross BlueShield Week of Equity & Action 2021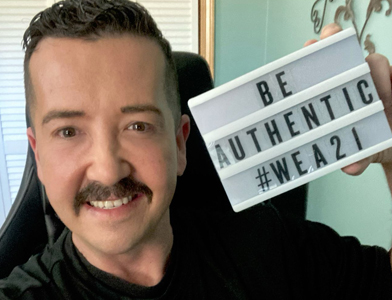 CareFirst BlueCross BlueShield (CareFirst) recently hosted its 2nd Annual Week of Equity & Action, which serves as an opportunity for CareFirst employees to cultivate empathy and understanding of each other in the workplace and the community.
CareFirst's Week of Equity and Action is part of the organization's mission, values and ongoing commitment to support an enriched culture and environment of inclusion, equity and belonging across a richly diverse group of people of different ages, races, religions, ethnicities, culture, abilities, economic status, identity, and sexual orientation. By listening, learning and acting, CareFirst employees learn how to practice empathy, celebrate differences and act as allies to demand diversity, equity and inclusion.
The ask throughout the annual Week of Equity and Action is to listen, learn and act.
Listening means:
Opening yourself to dialogue and practicing empathy.
Actively hearing and appreciating someone else's worldview. We all see the world differently. Our collective experiences create a sharper and more complete picture.
Asking questions to develop a more wholistic understanding of each other.
Learning means:
Authentically engaging in difficult conversations; acknowledging growth is not always comfortable.
Practicing self-reflection and introspection. We are not immune to bias and therefore need to constantly re-examine and challenge our perspectives.
Intentionally engaging individuals with respect, seeking to understand our differences and acknowledging what makes us different is what makes us strong.
Acting means:
Standing up for everyone, everywhere, to advocate for access to the resources and tools they need to succeed.
Committing to intervene when we see injustice or inequity. This means speaking up and advocating for each other. If you see something, say something.
Uplifting the voices of others, making sure all are invited to and able to participate equally at the table.
In 2019, more than 5,000 CareFirst employees participated in the company's first-ever Day of Equity and Action, attending educational sessions and volunteering at over 20 locations to support the communities we serve. In 2020, due to the COVID-19 pandemic, the organization hosted an entire week of virtual activities, seminars and more to discuss allyship, inclusivity, social determinants of health, etc. The event has evolved so much over the past three years. What started as one day has turned into a week-long event with nearly 20 seminars and interactive activities.
During the 2021 Week of Equity and Action, 5,692 employees and contingent workers participated in various seminars and volunteered at 14 organizations throughout Maryland, The District, Northern Virginia and West Virginia.
The opening session featured CareFirst Executive Leaders including President & CEO Brian D. Pieninck, who was joined by New York Times Best-Selling Author, Podcast Host & Professional Troublemaker, Luvvie Ajayi Jones. Luvvie taught CareFirst employees how to "get comfortable with being uncomfortable" and how it is necessary to speak up and be an advocate for oneself and on behalf of others. Luvvie stated, "all comfort has done is maintain the status quo," and being uncomfortable, speaking hard truths when things are difficult, can inspire real change. By learning from each other during the week, CareFirst employees, contingent workers, board members and guests found that by being "professional troublemakers," all can be a force for good and make a difference when they choose to act.
Top Workshop Topics
BlueCross BlueShield Association Health Equity Strategy
CareFirst's participation in the BlueCross BlueShield Association's (BCBSA) Health Equity Strategy is paramount in eliminating and confronting racial health disparities in the communities where employees and members live, work, play and seek care. In this panel discussion facilitated by Stacia Cohen, Executive Vice President of Health Services at CareFirst, employees learned about the importance of health equity and the elements of BCBSA's Health Equity Strategy. The session further detailed the four conditions that disproportionately affect communities of color (maternal health, behavioral health, diabetes and cardiovascular conditions) and how CareFirst is stepping up to address them.
Speakers Included:
Take Action to Increase Access to Care
In this session, employees heard from four experts to learn about the Hispanic and Latinx communities, Indigenous peoples, veterans, and people with disabilities. More specifically, they learned about the challenges they face accessing healthcare and how they could make a difference in advancing health equity, affordability and accessibility.
Advocating for Yourself and Others
Advocacy and the related topics of allyship and voice can be complicated. While there is often a desire to speak up for oneself and support others, workplace norms, power differences, and complex relationships can affect how, when, and what to say. During this workshop, employees went through a guided journey of unpacking and examining perspectives, voices and roles through engaging stories and interactive, thought-provoking activities.
Other Topics Included:
Creating and Maintaining a Safe Workplace Culture for Employees Across the Gender Spectrum
How to Engage When Not an Expert
Leading Through an Intersectional Lens
America's Enduring Racial Pandemic: How to Navigate Harsh Truths
Anchor Institutions: How Organizations Harness Resources to Address Critical Issues
Being Black in White Spaces
Meet Karina: Experience a Non-Native English Speaker's Journey through Healthcare
Retaining and Engaging Diverse Talent
The Outward Mindset
Unlearning and Centering Latinx Experiences in the Workplace
Expanding Diversity: Moving toward Authenticity
Well for Culture
What Growing Up Mixed Race in America Teaches You About Race
Factuality presents "Just the Facts"
Skills Based Volunteering 101
United Way of Central Maryland presents "The 30|30 Experience"
Volunteer events were hosted in communities across CareFirst's service areas, including Baltimore, Maryland; Charleston, West Virginia; Cumberland, Maryland; Montgomery County, Maryland; Northern Virginia; Prince George's County, Maryland; and Washington, D.C. Service included outdoor projects, trash removal, packing food boxes and more to support low-income families and communities, individuals with disabilities and those experiencing homelessness.