Brian D. Pieninck Biography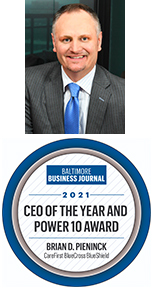 Brian D. Pieninck is Executive Vice President, Large Group Strategic Business Unit and CareFirst Administrators, for CareFirst BlueCross BlueShield. Mr. Pieninck joined the company in 2015 to assume executive leadership of strategy, business development, and operational services for CareFirst's largest and most complex commercial, state, labor and municipal customer segments. In 2016, his responsibilities were expanded to include CareFirst Administrators, a wholly owned subsidiary of CareFirst BlueCross BlueShield. Prior to joining CareFirst, Mr. Pieninck was a member of Aetna's executive leadership team where he held a variety of positions of increasing responsibility during a 19-year tenure, including President of Southeast National Accounts, and most recently, President of the Americas for Aetna International.
Mr. Pieninck holds a Bachelor of Science in Business Studies Business Administration from Southern New Hampshire University and is a graduate of Leadership Maryland's Class of 2016.