Return to the Office, Stay at the Kitchen Table, or Both?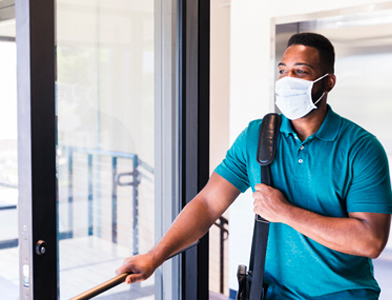 In March 2020, many employers sent their employees home to work remotely and adhere to social distancing guidelines. With more individuals vaccinated and fewer cases of COVID-19 nationwide, many are beginning to wonder what the future holds for corporate America. How much office space does an organization actually need?
Angela Celestin, Executive Vice President and Chief Human Resource Officer, CareFirst, recently shared insights with the Business Journals on the future of the workplace post-pandemic and strategies to keep employees energized whether at home, in the office or a hybrid of the two. This shift in how businesses conduct work will require a flexible approach and mindset, and transparent communications.
"I would advise companies to ask employees not just whether or when to return to the office but also to get specific," said Celestin. "For example, what functioned best with remote work? What were your challenges? How did you or your team overcome challenges? These questions will illuminate not just your employees' opinions but give crucial insight into the reasoning behind their thoughts."
Celestin provided considerations on how to address these lingering questions:
Ask, listen, repeat. Receive as much employee engagement and feedback as possible when making your decisions.
Answer the where, what, why and how. Where is the company headed? Why is it headed in this direction? How will leadership reach these goals? What role will employees play in helping accomplish the company mission?
Consider a gradual approach. Take the time to plan and leave ample time for adjusting.
"Give your employees plenty of support through this time, and you'll find the transition to the post-pandemic workspace, whether at home, in the office or a hybrid of the two, can go smoothly and quickly."
Angela Celestin, Executive Vice President and Chief Human Resource Officer for CareFirst BlueCross BlueShield